You can spend your vacation
on the dream island Nosy Be
in the house of Armin & Liuba!
Welcome to our website!
We are Armin and Liuba Rau from Germany. We traveled a lot around the world and always dreamed of a beautiful romantic house on a dream island. With this goal in mind we looked around in the Caribbean and the islands of the Indian Ocean and found the most beautiful place on the small island Nosy Be, which belongs to Madagascar. We bought it and lovingly designed it for us and our guests. Thus, our dream came true.
It was not a spontaneous decision, but rather the one based on the fact that Armin had known Madagascar since 1984 and had been there many times before. Over the years he came to love the land and the people, and shared life with the Malagasy.
We think it is a special place where you can discover many things that are not found anywhere else in the world and where there is no mass tourism. We therefore wish that all our guests feel comfortable during the stay and fly back home with good impressions. We wish all the best for our guests in our dream house!
Armin & Liuba Rau
Location and facilities.
If you are looking for a vacation paradise that offers peace, relaxation and a cozy atmosphere among the breathtaking nature, then you have come to the right place.
Our romantic 3-bedroom vacation home is ideal for families and groups of up to 6 people. It is located on a small hill in the quiet, picturesque, well-secured residential area Les Hauts Manguiers.
The house is built in the Malagasy style with a satrana roof, stone and rosewood panels. The building consists of the ground floor with the living room, kitchen, shower room, guest toilet and a bedroom with an additional exit to the balcony. Upstairs there are two more bedrooms and a toilet. In the living room there is a internet-connected Smart TV and Wi-Fi (flatrate, fast Internet connection).
The whole area is planted with mango trees, bananas, papaya, vanilla and tropical plants like frangipani, bougainville etc. and is constantly maintained by our gardener.
We fell in love with our house at first sight and would like to show you some pictures of it.
Driveway to Domaine Les Hauts Manguiers
A view of the house
A view of the house: the balcony side
A view of the house: the balcony side
A view of the house: entrance area
Balcony
Balcony
Balcony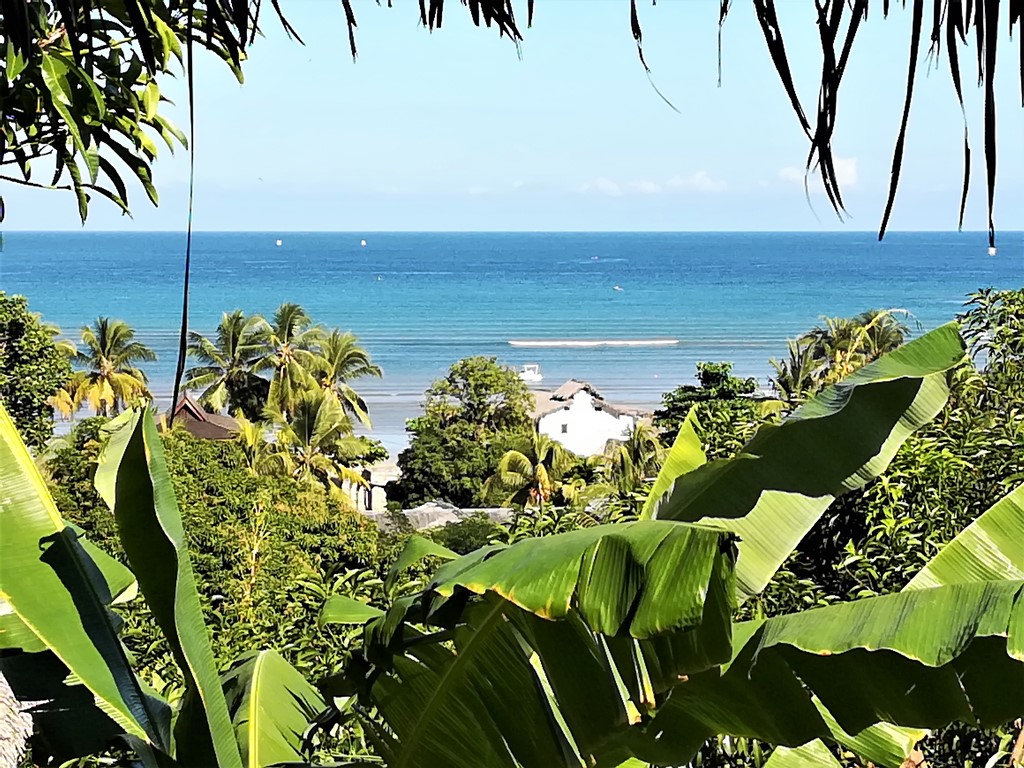 A view from the house to the ocean
A view from the house to the ocean
A view from the house to the ocean
Our housekeeper Chamsan in the kitchen
Shower
Bathroom
Bedroom with an exit to the balcony
One of the 2 more bedrooms on the first floor
Living room
A massage is possible in our home
Plants in our garden
Plants in our garden
Plants in our garden
Plants in our garden
Plants in our garden
Surroundings.
Popular tourist destinations Ambatoloaka and Hell-Ville - the capital of the island - are nearby.
The beautiful neighbor islands Nosy Komba, Nosy Sakatia and Nosy Tanikely are about 15-20 minutes away, and it takes about 40 minutes by boat to reach the island Nosy Iranja. The rides can be booked directly on site.
We have experienced local Malagasy tour guides who speak English, German, French and Chinese and organize the tours. On request they also organize diving and fishing tours for tourists.
We can also recommend experienced boat drivers, who will take you with or without a tour guide to neighbouring beaches for snorkeling or even fishing, and masseuses, who will also come to the house if you wish, as they have already massaged guests of the previous owners of our house and later also us.
Our housekeeper Chamsan has all the telephone numbers and, if necessary, these people will be happy to come to you and discuss this with you in our house.
With a tuk-tuk you can drive in about 15-20 minutes to the daily market in Hell-Ville or to the fish market in Dzamandzar. There is also a possibility to buy food in the modern supermarket Leader Price, which lies between Ambondrona, where our property is, and Hell Ville.
Directly on the beach not far away from our house there are some nice restaurants where you can go for a dinner in peace and quiet if you don't want to cook at home. Alternatively, our housekeeper Chamsan, who is a very good cook, is happy to cook for you for a small fee (€5,00 = approx. 20.000 Ariary per meal), from the food you have bought yourself. Also for €5,00 per laundry charge you can use our washing machine. The money (preferably in Ariary) is to be paid directly to Chamsan.
Prices and flights from Europe
You can find the prices at the following links:
One can read a lot about Madagascar, but then, when one is finally there, everything is different again. Discover the beautiful island of Nosy Be and uniquely beautiful neighboring islands and enjoy our beautiful accommodation!
The pictures below speak for themselves and show only a tiny part of what you can see and experience in Madagascar.
Dream beach at the neighbor island Nosy Iranja
Dream beach at the neighbor island Nosy Iranja
Dream beach at the neighbor island Nosy Iranja
Nosy Iranja
Dream beach at the neighbor island Nosy Iranja
Nosy Sakatia, to the giant turtles
Nosy Sakatia, to the giant turtles
Nosy Sakatia, to the giant turtles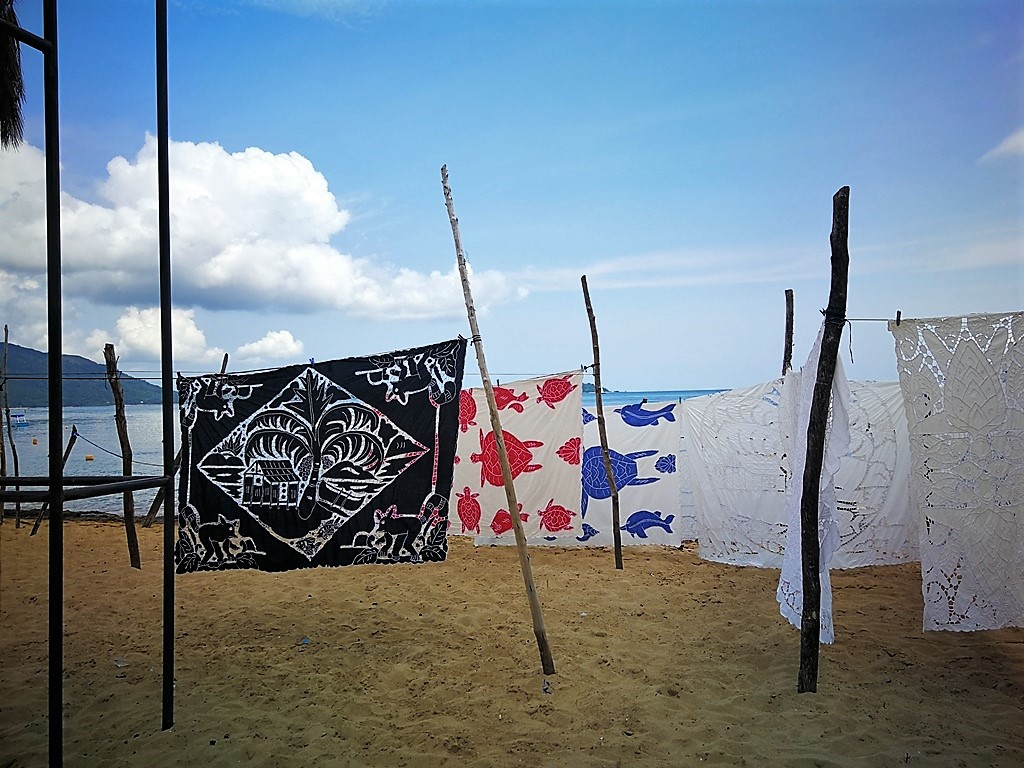 Nosy Komba
Nosy Komba
Nosy Komba
Nosy Komba
Nosy Tanikely
Nosy Tanikely
Nosy Tanikely
Market in Hell-Ville
Fresh and very cheap langusts at the market
Lemuria Land on Nosy Be
Lemuria Land on Nosy Be
Lemuria Land on Nosy Be
Lemuria Land on Nosy Be
Lemuria Land on Nosy Be
The beach near out house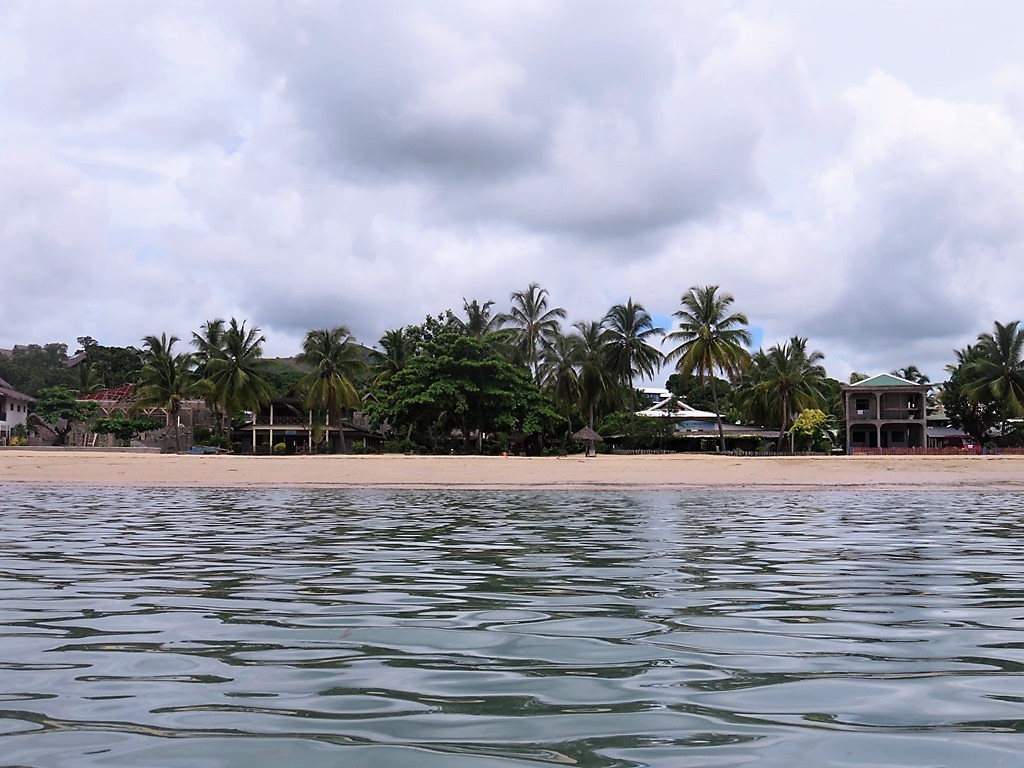 The beach near out house
The beach near out house